WAIT!
Before You Go...
I Still Want to Send You a

Free Copy

of My NEW Report:
How to Make Money in Stocks Following the Biggest Money-Making Trends in America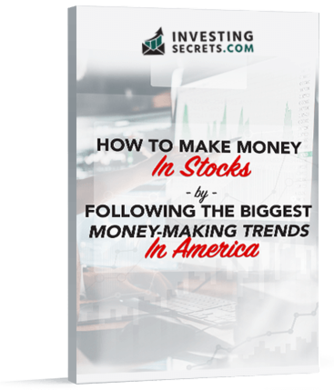 Plus: My NEW "Ultimate Energy Stock" Special Report!
Dear Reader,
You've invested a significant amount of time learning about this opportunity, so I want to make sure that you don't walk away empty handed.
Now, I'm not sure if you didn't want to commit to a full year's subscription…
Or if it was the $99 price tag that stopped you from getting all the details on this fantastic energy stock that I consider one of the BEST values on the market today…
So, here's what I'd like to do.
First, I'll send you a free copy of my new report –
How to Make Money in Stocks Following the Biggest Money-Making Trends in America
Spotting huge profit trends isn't easy. It never is.
After all, very few people thought Amazon was going to go from a $7 stock to a $1,700 one.
Apple… Netflix… Priceline… the list is endless... stocks that exploded thanks to trends that most people didn't notice take hold until it was too late.
But it doesn't have to be that way.
Because there's five new trends that are ready to explode all throughout 2019.
They've already started playing out and they're only going to get bigger as the year goes on.
The key is to get in before the investing masses drive prices up to insane levels.


There's a little-known metal that's never been more in demand than right now. Yet very few people even know about it. But those "in-the-know" are chomping at the bit to buy stocks tied to this metal because massive gains appear to be on their way in the near future.


Most people think oil is dead. And for years it's been a terrible investment. But a massive opportunity has arisen in domestic oil. How do you play it for massive gains? You'll find out how in this report.


Something called the "silver tsunami" is about to reach epic proportions. It could have a huge impact on dozens of companies across multiple industries, in both good AND bad ways. Here you'll discover a couple ways to play it for potentially life-changing gains.


There's one industry on Earth that's growing faster than any other. It's already made several investors extremely rich, and it's only getting more massive as you see this. This is a VERY fast-moving situation and just one well-timed investment could be worth 10x your money in a flash.


Even though the FAANG stocks have suffered lately, tech is STILL white-hot. But there's one tech trend specifically that's going vertical. In fact, it could be worth 10 Microsofts! And there's a way you can jump in now that could pay off handsomely over the next few months.


With this extensive and detailed report, you'll learn everything you need to know about each of these trends as well as how to:


Build a lasting legacy of generational wealth.


"Read" the future in order to make huge money today.


Land a continual stream of income.


Find out which stocks to buy and when to buy them.


Earn more in a year than others do in their entire lifetimes!


Now, in addition to How to Make Money in Stocks Following the Biggest Money-Making Trends in America…
I'll ALSO send you the special report detailing the $12 "Ultimate Energy Stock" I've just been telling you about.
This company passes ALL FIVE of my strict requirements for BUY recommendation.


Their fuel cell technology is incredibly innovative.


Their approach to how they do business (by going to tech companies directly) is outside the box and successful.


They provide great value to their clients like Google, Verizon, FedEx, Apple and more. And at $12 a share, they ARE a great value too!


They've got investors like a former U.S. Secretary of State and Goldman Sachs pouring over a billion dollars into them.


And with the IPO buzz worn off and the market's nightmare 2018 over… the time to get in is NOW – before the stock climbs back up to its price levels from just a few months ago!



That's why I'm calling this company my Ultimate Energy Stock.
I'll send you the explosive special briefing I've written up on it (which includes its name AND ticker symbol) at NO cost.
All I ask is that you accept just a simple three-month membership to The Smart Investing Society.
The investment recommendations you receive in these three months could bolster your net worth for years to come.
The total value of this incredible package is $395.
All that I ask is that you cover a modest fee of only $19.95.
That's it.
On your three-month anniversary, you will conveniently be billed $129 for each additional year you choose to stay a member.
If you don't want to continue, just reply to the email or call our customer service line and we'll cancel your subscription. You'll never be billed again.
There are no strings attached.
How to Make Money in Stocks Following the Biggest Moneymaking Trends in America…
My report on the $12 "Ultimate Energy Stock" I've been telling you about today.
And a three-month membership with ALL the privileges to The Smart Investing Society.
All for only $19.95.
Simply fill out the quick form below, and I'll rush everything out to you today.